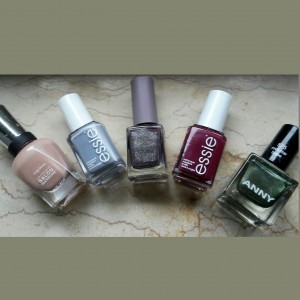 Here are my Five Favourite Nailpolishes for Fall 2015!
Das sind meine fünf Lieblingslacke für den Herbst 2015!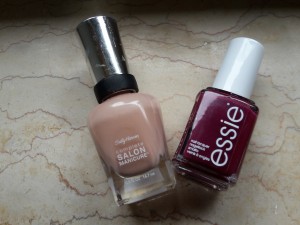 1. Sally Hansen – Complete Salon Manicure – Cafe Au Lait
Perfect for the "nude-nails-look"!
Ein perfekter natürlicher Hautfarbton!
2. Essie – Bahama Mama
A gorgeous dark berry colour!
Ein toller Beerenton, der sich durchaus farblich anpassen kann. Je nach Outfit wirkt er rötlicher oder  die pinken Untertöne kommen zum Vorschein.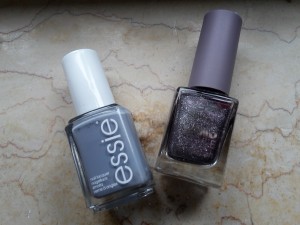 3. Essie – Cocktail Bling
I love grey nailpolishes with a hint of blue in it!
Ein schöner Grauton mit einem leichten Blaueinschlag!
4. P2 – Sand Style Polish – 060 Strict
This is a plum metallic-nailpolish with silver glitter! Love it!
Dieser Nagellack hat einen ganz speziellen Farbton. Je nach den Lichtverhältnissen ist er mehr grau, mehr taupe oder pflaumenfarben. Der silberne Glitter gibt dem Nagel Struktur!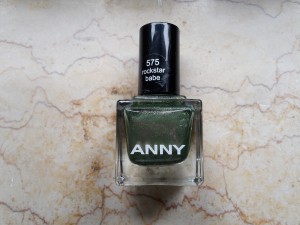 5. Anny – 575 rockstar Babe
This nailpolish is for the brave ones out there! It is an amazing green nailpolish, which reminds me of Christmas time!
Ein toller grüner Nagellack mit goldenem Schimmer! Er erinnert mich an die Weihnachtszeit!